I have participated last week-end in London to the amateur session of the European Planetary Science Congress (EPSC) 2013. A great moment for amateur astronomy but not only!
This is the second amateur amateur session in history at the EPSC (the first one was last year in Madrid). For having participated as well to the 2012 one in the Spanish capital, I can say that this year it has been even more interesting :). But what is the interest of this session ?
Showing recent scientific results with amateur participation
This is the most obvious target. Several talks have presented some results by scientific works that include amateurs.
The session began by an oral presentation by Ricardo Hueso Alonso, from the Superior technical school of engineering of Bilbao (in replacement of François Colas, that was unfortunately unable to attend), of an important work that has been conducted for more than one year by Olivier Mousis (Besançon observatory): the future publication of a paper submitted to Experimental astronomy that gathers all the possible fields of cooperation between scientists and amateurs in solar system studies. The article has been co-written by almost 60 authors from both worlds and is of a surprising density and wealth. Let's hope it will be accepted soon!
John Rogers, Director of the Jupiter BAA section, revealed some results obtained in the study of the last upheaval observed in the northern hemisphere of Jupiter, mainly in the North equatorial belt (NEB) and North temperate belt (NTB). The region looks to show profound changes with some events that had not been seen for decades. The amateur contributions to the Jupos project have largely made this possible. Yes our images have scientific interest!
In the same way, Marc Delcroix, President of the SAF commission of planetary observations has spoken about a project that he has directed since last year with Ricardo Alonso, aimed at finding unseen impact asteroïd flashes on amateur's Jupiter videos: DeTeCt. This is a software that almost works alone. So if you dare to become celeb ;) and at the same time contributing to a truly scientific research (the idea is to increase our estimation of the frequency of such impacts), I just strongly encourages you to use it. Are you sure that any hidden treasure will never be found in your old or you next Jupiter videos ? ;)
Promoting advanced observing techniques, for our common skill improvement 
Manos Kardasis, from the Hellenic astronomical association, synthesized his technique he calls the DDO, Digital Daylight Observation. Planetary phenomenons don't stop because a planet is getting closer to the Sun, or because it's still not set or already risen. There are some techniques to use to make daylight planetary observations, and the observer might be rewarded with some important discoveries or contributions. This is how Manos discovered, in 2012 spring, the start of the last NTB revival on Jupiter…
Exposing particular interesting works by amateurs 
During this session I have been pleased to describe some studies made with Belgium observer Giuseppe Monachino about venusian observations conducted in the near-infrared wavelengths. Venus is still a relatively unknown planet and amateurs have room to make observations of scientific interest on it.
Finally, Richard Miles from the BAA talked about the photometric results obtained on asteroids of the Themis class. An excellent display of amateur's potential in different domain.
… and meeting friends :)
This is not science but it counts for at least half of the interest there is in participating to such events ;). This is a golden occasion to meet people with who you only talk by e-mail most of the time because they live in countries far from yours. The web is nice but it is better to share some local food or beers ;). Let's see us again as soon as possible.
NB: Marc will shortly publish a page with all our conferences :)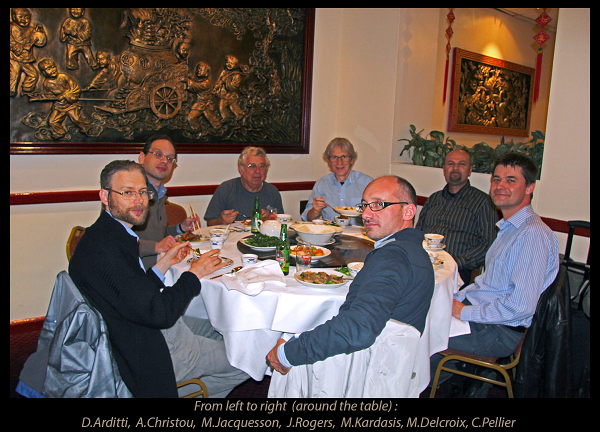 Intense brainstorming at the end of the day. Image courtesy Manos.